My Career Path
Implementation Consultant - Tech Team Lead and Systems Engineer
Fast Enterprises; May 2014 - October 2015
As the technical lead for the Alaska Tax Revenue Management System Project, I was responsible for owning, developing and managing multiple subsystems, including security, imaging, data warehouse, mail, discovery and analytics. This included requirement gathering, design sessions, demonstrations and more. I worked with one to two subordinates, depending on the subsystem and did most of the more-complex development as well as documentation, verification and gaining approval from the client throughout every step of system development.
My responsibilities included:
• Provide technical representation and leadership on the project and to the team from definition to delivery at a peer level with the project architect
• Support Project Management in the definition and technical validation of delivery schedules and plans
• Lead a small team of developers and client staff to ensure implementation is correct and working with or acting as Iteration Manager to ensure ongoing review of delivery plans
• Ensure consistent and regular reviews of progress and escalation of any risks or deviations from the plan with recommendations and mitigation strategies, as appropriate
Specific tasks including:
• Hardware specification and procurement
• Security specification and reviews
• Disaster recovery planning and implementation, On-call support
• Setup, configuration and maintenance of n-tier environments, including: Application servers, Web servers, Web services, Database servers
• Code optimization and application troubleshooting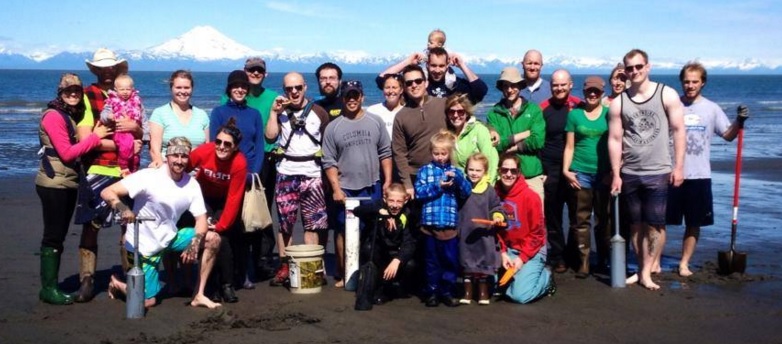 The Fast Alaska Team on a 'Clamping' Trip -- Camping and Clamming in the Kenai Peninsula.
IT & Operations Manager
Schnee's Inc.; March 2012 - May 2014
I manage technical and information systems for a business of 80 employees across 5 locations in the Bozeman area, and one store in Georgia. I perform systems administration and website administration. I successfully managed the merging of two inventories, each with more than 20 thousand items unique to that specific database. I managed the subsequent changeover of 'point of sale', accounting, and purchasing functions to one unified system and software set. I set up wide area networks custom fit for specific point of sale operability and a flexible phone system allowing dynamic resource allocation distinct to any associate's unique location and needs. I single handedly installed and managed the entire LAN and phone network for a multimillion dollar location performing high-capacity sales and various business 360 days out of the year. I upgraded the unified point of sale system and database from Visual Fox Pro to SQL Server 2012. I've created multiple offsite backup locations which allow for data redundancy and protection. We are the only company that has successfully utilized our particular sale software across multiple locations with unique inventories, all part of a single database.
This position transitioned to salary in June of 2012.
Sales & Customer Service Associate
Bob Ward & Sons'; October 2010 - July 2011, September 2006 - March 2007, October 2005 - April 2006
I have been employed with Bob Ward & Sons' on three different occasions, at three different locations, including Hamilton, Missoula, and Bozeman, MT (the latter being the most recent). Being a salesman of camping and snow equipment entailed frequent interaction with customers looking for advice, products, information and help, with a professional attitude. I managed the ski department once a week (Hamilton), gaining extensive leadership and teamwork experience. I became proficient in placing special orders, repairing snow equipment, working with disgruntled customers, fitting customers with the appropriate equipment, as well as setting up much of that equipment and testing to make sure it was in safe, working order. For 05/06, I, as well as two others set a new sales record for the ski department's winter season. I helped my team meet or exceed projected sales goals and projected revenue for every winter month employed with Bob Ward & Sons', in both Missoula and Hamilton.
IT Summer Project Managing Intern
University of Montana CoT, Missoula; May 2010 - September 2010
This was a paid internship through The U of M College of technology. I was responsible for changing not-for-credit classes over from paper registration to online registration. I was provided the privilege to make my own hours and to work either remotely, or from the office at the COT-Missoula.
Customer Service Representative; Technical
DirecTV; October 2009 - May 2010
As a customer service representative, I was required to navigate through multiple data entry, information systems and other relevant applications, tools and resources while simultaneously engaging and listening to customers. I answered customer questions and resolved issues in a professional and courteous manner. I was initially trained for five weeks, learning to initiate interactions resulting in adequate customer satisfaction. Throughout my employment, I maintained metrics exceeding company requirements in terms of productivity and quality standards. I acquired extensive product and system knowledge, necessary to diagnose an issue, then present and enact a resolution. I learned to effectively assess customer needs and position products with services appropriately to best suit the customer's needs. I received more than five weeks of formal training in these areas.
Assistant Manager of WareHouse & Compliance Management
Ravalli Electric Coop; July 2007 - August 2007
Processed and catalogued incoming supplies. I delivered materials to substation construction sites. Aided crews of up to 12 linemen in the construction of two substations, including filing development reports, and photographing the process. I was an integral part of the switch-out of twelve thousand non-AMR (Automated Meter Reading) wattage-hour meters, a multi-million dollar project which significantly increased company efficiency. I kept the supply yard and adjacent warehouse clean, organized and functional for the team of 20 linemen and foremen, who worked in and around this area, daily. Kept stock and consignment areas full of supplies. I operated an eight-ton forklift daily, to move valuable incoming and outgoing freight. I also helped keep a fleet of 16 utility trucks and business vehicles presentable and operational.